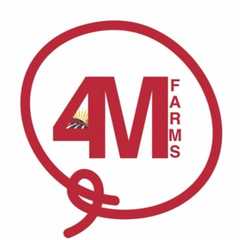 4M Farms
Established 1980 - Feversham, Ontario
Phone: (705) 441-3248
Address: 529165 Osprey the Blue Mountains Townline, Feversham, ON N0C 1C0, Canada
View on Google Maps
Website: https://4mfarms.ca/
Our values
4M farms in Feversham is a family farm operated by Mike, Miranda, McKai (14), Maddison (12) and Mason (1). The farm has been in the Miller name for three generations.
The farm has always grown livestock for its own sustainability as well as open market sales. With the additions of McKai, Maddison and Mason to our family, we directed our focus to growing more of our own food to ensure a healthy, organically raised product for our family. We quickly started producing a surplus that our extended family got to enjoy and soon after we started selling to the public. With very positive feedback and encouragement from our family, neighbours and friends our small farm business has grown to reach other families who also want healthy, organically raised food.
In April 2016 we were devestated by a barn fire. We lost the barn, two feed storage buildings and 42 calves.  With 4 horses and 1 calf surviving the fire our spirits were crushingly low but not broken. We soon learned that none of our out buildings had fire coverage and so our long road to recovery would begin. With overwhelming help from our community, family and friends we are back to being a productive farm again! Our road to recovery has sure been a long one, but with a huge heartwarming thanks to you our customer, for your support and patronage, we continue to produce healthy food for our family and yours!
Pickup Info